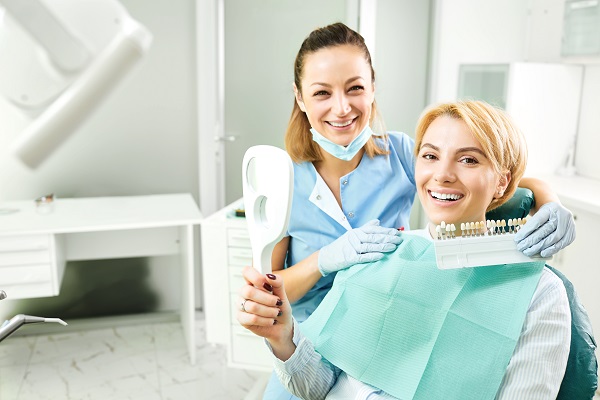 A periodontist is a dentist who has chosen to focus on helping dental patients by treating any soft tissue problems; oral inflammation treatment is one of the more common types that they provide. Because periodontists undergo additional years of dental training, they are often the go-to dental professional for placing dental implants.
About periodontists
Learning more about what a periodontist does is a great idea. There are many different types of dental professionals available to help ensure that your overall oral health is in good shape. According to the American Dental Association, periodontics is the dental specialty that focuses exclusively on the inflammatory disease, periodontitis, that destroys the gums and other supporting structures around the teeth.
While periodontists are known for treating gum disease, this type of dental professional also offers their patients other types of dental treatments.
Four reasons to visit a periodontist
The below information includes four reasons it is a good idea to make an appointment with a periodontist.
#1. To undergo a plastic surgery procedure
Periodontists often perform plastic surgery on their patients. Two common reasons that patients may want to undergo a plastic surgery procedure are to fix their gummy smile and for ridge augmentation. Having a gummy smile means that when someone smiles, they feel that too much of their gums are showing. Ridge augmentation procedures are performed on patients who have a receding jawbone, which is caused by a missing tooth.
#2. To provide patients with deep cleaning services
When a dental patient is in need of a deep cleaning due to gum disease, a periodontist is able to offer them this nonsurgical and important dental treatment. The deep cleaning procedure is known as scaling and root planing, which requires a periodontist to clean below the patient's gumline. The procedure allows for the removal of any plaque, tartar or calculus buildup on the teeth and may require the patient to return for additional treatments to ensure good teeth health.
#3. To undergo a gum grafting procedure
Gum graft surgery is a necessary dental procedure for dental patients who have exposed tooth roots due to gum recession problems. A gum graft is a procedure that covers up exposed tooth roots and helps develop more gum tissue in areas that are lacking a sufficient amount. The graft is often taken from the patient's palate, or donor tissue can be used. Gum grafting procedures are often necessary to reduce tooth sensitivity, as well as improve the way someone looks when they smile.
#4. To place dental implants
Many dental patients who are missing one or more of their teeth are choosing dental implants as their tooth replacement option. An implant is an artificial tooth root that requires a periodontist to surgically insert it into a patient's jawbone. When someone loses one of their teeth, it is necessary for them to find a replacement option as soon as possible in order to prevent additional dental problems.
Are you in need of periodontal treatment?
Ready to make an appointment with our experienced periodontist? If you are in need of one or more of the above dental treatments or even something different, we invite you to contact us now for more information.
Request an appointment here: https://www.westtexasperio.com or call Advanced Periodontics & Implant Dentistry at (432) 538-3318 for an appointment in our Odessa office.
Check out what others are saying about our services on Yelp: Read our Yelp reviews.
---
Related Posts
November 10, 2021
Gum grafting refers to procedures performed in order to replace missing soft tissues in the oral cavity. The soft tissues, also known as the gums, play a huge role in the function …