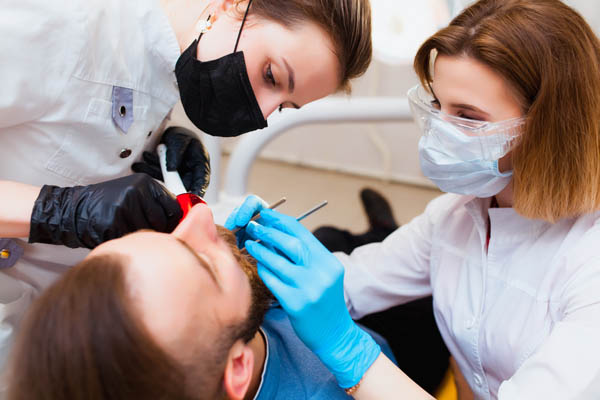 If you have missing teeth from gum disease, then you may have visited a periodontist before. If you are looking for a way to replace your missing teeth, then dental implants are a good solution. You probably have some questions about them, though. For example, you might be wondering if dental implants can cause any potential issues.
What are dental implants made out of?
Nearly all types of materials for teeth replacement are created from metal. Dental implants are no exception. Titanium is the material of choice for dental implants because it is compatible with biology. This is the same material that is used for shoulder implants and hip replacements. It is highly unlikely for anyone to be allergic to a new set of dental implants.
What are some benefits of dental implants?
Humans have two sets of teeth — baby teeth and permanent teeth. Sometimes, a patient loses one or more permanent teeth because of gum disease or dental decay. A periodontist can now use dental implants as the third set of teeth. Because dental implants can last a lifetime, patients will experience a better appearance for a long time to come. Because dental implants are made out of titanium, they will not decay as natural teeth can.
Are there disadvantages of dental implants?
Because dental implants are placed through a minor surgical procedure, there is a risk of infection, pain or inflammation. However, a periodontist will give a patient antibiotics after surgery to reduce the risk of infection. By following the periodontist's instructions, patients can reduce the risk of problems. This can include keeping the area clean.
Are dental implants with artificial teeth removable?
One of the main benefits of dental implants is that the implants are very similar to natural teeth. The crown of the tooth is permanently attached to the implant in the bone. This means that a patient cannot remove the artificial teeth. Unlike dentures, dental implants do not need any additional care. All a patient needs to do is brush and floss these artificial teeth as usual.
How do dentures and implants work?
One of the most popular uses of dental implants is for patients who have a partial or full set of dentures. The implants can support the denture, which will snap into place on the implant. This can be more stable than a traditional denture can be. A patient may also choose to get a fixed denture, which cannot be removed.
Visit a periodontist today
Dental implants have a range of uses, from replacing a single tooth to supporting a full denture. One of the main benefits of implants is that the look and function of them are very similar to natural teeth. The type of dental implant you choose will be based on your current oral health. A periodontist can help you decide which type is right for you. Knowing more about dental implants can help you make an informed decision about them.
Request an appointment here: https://www.westtexasperio.com or call Advanced Periodontics & Implant Dentistry at (432) 538-3318 for an appointment in our Odessa office.
Check out what others are saying about our dental services on Yelp: Periodontist in Odessa, TX.
---
Related Posts
February 7, 2023
When it comes to gum health, a periodontist is the right professional to see. Healthy gums are an integral part of your oral health and overall wellness. If you fail to take …