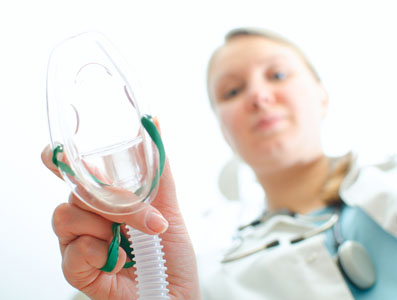 As a provider of sedation dentistry, we help patients to become comfortable with serious dental procedures. It can be difficult for someone to visit the dentist especially if they have dental anxiety. When there is a major infection that needs treatment with long periods of time in a dental chair, the patient may experience heightened anxiety.
In this case, some patients find it impossible to even visit the dentist to restore their oral health or replace teeth. Patients in this situation can visit our clinic since we can make it easy and comfortable.
Even replacing teeth can be comfortable with sedation dentistry
In our clinic, we regularly replace teeth using dental implants. This is the most secure way to do so because we surgically place each implant. We implant a small titanium post under the gum tissue and secure it to the jaw bone. The jaw will respond to titanium like it does natural matter so bone will begin to be deposited around that post. This creates a secure and durable synthetic root for a new tooth to be attached to.
However, since this is a surgical procedure, patients with dental anxiety typically do not consider this option for tooth replacement and may opt for dentures instead. Implants are a superior solution to dentures but dental anxiety is very real and it can cause people to make a decision based on their fears.
Benefits of sedation dentistry
#1. Patients can go to sleep
With sedation dentistry, a patient can sleep during the procedure and wake up after it is complete. We make it possible for them to become so incredibly relaxed that they nod off while in the dental chair. We can then perform dental work while a patient is comfortably dreaming away and unaware of what is taking place.
This is incredibly beneficial for anyone who has severe anxiety. We can even provide the sedation early in the appointment so that after a brief conversation with the dentist, a patient can begin to relax.
#2. We can work longer
Another benefit of sedation is that we can complete procedures in one setting that may often require several appointments due to how long they take. When a patient is comfortable, relaxed or sleeping, it allows for us to complete the process rather than needing to stop due to their discomfort or fear.
#3. People are happier
Patients also have a more favorable impression of the end results when they are not stressed out or anxious about the actual procedure. This is important because anyone who has a negative or stressful dental experience is going to be less likely to come back for future appointments. This is problematic considering how frequently people should visit the dentist to have their teeth examined and cleaned.
Schedule an appointment
We encourage you to call our office to learn more about this form of dentistry and how we can help you to be comfortable while having dental work done, even if it is a major procedure like replacing teeth with dental implants.
---
Related Posts
February 1, 2020
Millions of Americans do not visit the dentist due to fear, but thankfully that can be resolved with sedation dentistry. Studies conducted by the Dental Fears Research Clinic at the University of Washington show that …
---