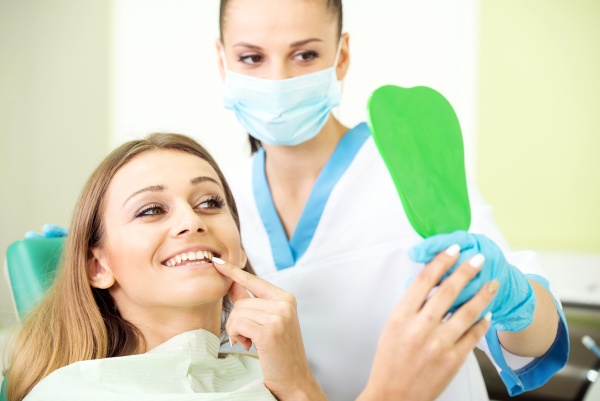 A periodontist is a great resource to utilize when looking to have a serious procedure done, such as dental implant placement. Many individuals who consider tooth replacement with dental implants are not sure what kind of dentist to see to get the process started. Thankfully, a lot of dental professionals undergo the same training and are all qualified to perform the procedure.
Dental implants from a periodontist
Below is an overview of what a periodontist does, including their role in dental implant procedures. This information can be helpful for individuals who are considering dental implants but may not be sure what type of dental professional to visit.
What is a periodontist?
A periodontist is a dental professional who specializes in diagnosing, managing and treating gum disease. They work to prevent infections in the gums, which is done through a number of measures, including deep cleanings and scaling procedures. Additionally, periodontists perform dental implant placement procedures.
A periodontist's role in dental implants
Because periodontists specialize in all things relating to the gums, they also learn how to place dental implants. Dental implants are embedded beneath the gums directly into the bone and is a procedure that requires special expertise. for example, periodontists understand how important soft tissue is for supporting the teeth, dental implants or artificial teeth. Aside from being capable of performing the placement procedure, periodontists also make an extra effort to ensure comfort, security and efficiency.
Other things to note
While many people will visit a general dentist and oral surgeon for dental implant placement, it is worth considering paying a visit to a periodontist instead. Outlined below are a few reasons why getting dental implants from a periodontist is a good idea.
Periodontists perform dental implant placement procedures far more often than other dental professionals.
Because of their training and education, periodontists have a better understanding of the possible complications or risks associated with dental implant placement.
One of the main causes of dental implants failing is perioimplantitis, which is a type of gum disease. It affects the gums of patients who have dental implants. Periodontists can monitor and treat the infection appropriately and help ensure the tooth replacement process is successful.
Periodontists undergo far more education and advanced training than general dentists do. They are, thus, experts of implant placement.
Ultimately, it is up to each patient to decide what type of dentist to visit for dental implant placement. However, all in all, a periodontist is one of the best options. They ensure a smooth process from start to finish, all while ensuring that the gums remain healthy and in good shape.
Find out more from a periodontist
Dental implants are a great way to replace missing teeth. When looking to learn more about the procedure, it is best to consult with a periodontist. Periodontists are one of many dental professionals who play an important role in tooth replacement procedures. Reach out today to find out more or to get started with an appointment.
Request an appointment here: https://www.westtexasperio.com or call Advanced Periodontics & Implant Dentistry at (432) 538-3318 for an appointment in our Odessa office.
Check out what others are saying about our services on Yelp: Read our Yelp reviews.
---
Related Posts
January 12, 2022
A gum graft is a dental procedure done in order to restore the health and appearance of the soft tissues of the mouth, also known as the gums. The soft tissues can …