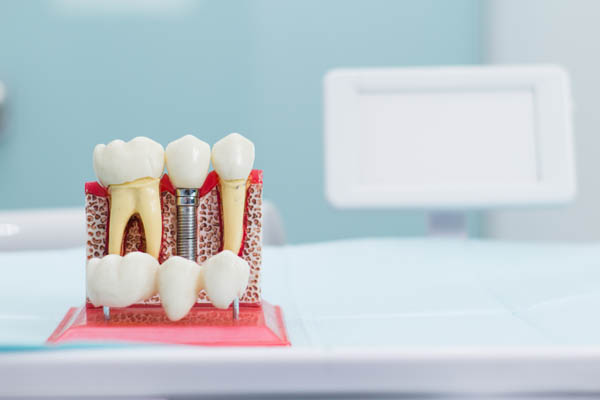 If you are looking to replace several teeth due to decay, infections, disease, injury, or other loss, then you may be looking for your options for a dental implant. The good news is that these procedures have been done frequently, and therefore, a lot of knowledge is known about the process and what to expect. This is a great replacement when dealing with long-term dental hygiene concerns.
First steps
Initially, you will see your dentist for a consultation and examination. They will look at your dental health and likely take photos or x-rays of your jaw. At this time, inform them of any medical conditions or medications you are on. During some dental procedures, medications can thin the blood and cause problems with surgery. It is possible that you may have some bone loss and may need bone grafting, which is a procedure used to rebuild or repair bones. If all looks well, your dentist will schedule an appointment for your surgery.
The dental procedure
The type of anesthesia you get will vary on when you can eat before your surgery. With local anesthesia, you can take a few hours before the surgery. Under IV sedation, you will likely not eat anything after midnight the night before. During the surgery, your dentist will put an incision into your gums to place the piece where your tooth is missing. The gums are then closed again. When fully secured, an abutment will be put over the piece. An abutment is a connector that holds the crown, or fake tooth, in place, so it is protected.
How does it work?
Dental implants work by taking advantage of our body's systems of healing and adapting. Once the surgery is completed, the bone grows around the new piece. You can imagine this like tree roots- if there is something in the way, it will simply grow and move around. This fusion then becomes part of our body and allows you to eat and replace the functions of an authentic tooth. Currently, only certain materials are compatible with the surgery without our body rejecting it. Usually, they are made of titanium that is biodegradable.
Recovery process
If you received IV anesthesia, you would likely feel a bit foggy-headed and groggy when you wake up. It may take some time for you to recover fully, so plan to have a friend or family member drive you home. Relieve yourself of any responsibilities, like work, so you can properly recover. You may have some initial minor pain, swelling, bleeding, or agitation in the area. Over-the-counter medications should be able to help you manage any discomfort. You may be prescribed antibiotics following the surgery taken as directed to prevent any infection. Your dental professional might also recommend certain mouth rinses that are anti-bacterial. If you own dental implants, make sure you practice regular dental hygiene for your dental health and longevity.
Speak with your dentist
Dental implants offer one of the most beneficial tooth replacement options available. Their ability to fuse within the jawbone provides unsurpassed natural stability, and helps to maintain bone density for the adjacent teeth. If you think that a dental implant might be an option for you, contact your dentist today to schedule an appointment.
Request an appointment here: https://www.westtexasperio.com or call Advanced Periodontics & Implant Dentistry at (432) 538-3318 for an appointment in our Odessa office.
Check out what others are saying about our dental services on Yelp: Dental Implants in Odessa, TX.
---
Related Posts
August 1, 2022
One of the most common treatment options for missing teeth is the dental implant. This permanent replacement has a natural appearance and feel that mimics real teeth. Implants are typically done for …