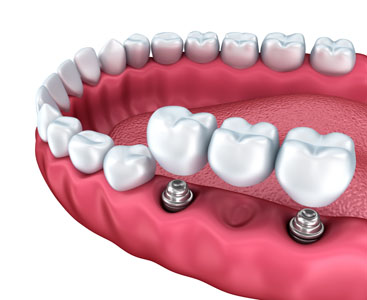 If you have suffered a sports injury to the mouth or jaw, implant dentistry is an excellent way to replace your missing tooth. As an athlete, you are constantly putting yourself on the line and pushing the boundaries of what you can do physically. Pushing physical boundaries can lead to success or injuries. If you experience a dental injury while playing sports, we are here to help by restoring your tooth. If your tooth has been knocked out, dental implants are as sturdy and durable as natural teeth.
Benefits of Implant Dentistry
To understand the full benefits of dental implants, it helps to know how the process works. Dental implants are the only solution that replaces missing teeth and the missing root structure. Unlike dentures, which are removable or a dental bridge that uses the surrounding teeth for stability, an implant is secured directly to the jaw. To do so, we surgically implant a small titanium post under the gums.
The body reacts to titanium as if it were natural matter. As a result, the body creates bone to be deposited around the titanium posts, known as osseointegration. Once osseointegration is complete and the post fuses with the jaw bone, we can secure a new tooth in place. The implant now serves as a stable base for the new tooth. Additionally, this process works to strengthen the jaw bone and prevent resorption for improved health.
With a new root system, the dental implant will act and behave like a natural tooth would, leading to benefits such as:
A natural looking smile
The ability to eat whatever you like without fear that your new tooth will fall out or become loose
A fast care routine that only includes brushing and flossing
The ability to remain an active athlete without ever considering your teeth and how they will perform when you are exercising, running and jumping
An improved appearance that is free from tooth loss
Our patients love how natural their smile looks when the process is complete and how they never have to worry about their missing tooth once it has been replaced.
The process may take some time
We warn patients that it does take time for one to receive a dental implant because it is placed surgically and osseointegration takes some time to complete. However, the time it takes is completely worth it, given how one's life will be impacted in the long-term. Dental implants do not require specialized care and mainly need the same care as other natural teeth.
Once the implant is firmly in place, a patient will want to take steps to protect all of the natural teeth. Nothing additional is required for the implant itself but you should begin to wear a mouth guard while playing or practicing to prevent a similar injury. We can professionally make dental implants to fit perfectly and will stand up to the most active user, providing daily protection.
Call for Implant Dentistry
Learn more about your options and how implant dentistry can restore your beautiful smile by contacting our office today and scheduling a consultation.
---
Related Posts
May 26, 2016
If you are looking for an implant dentist in Odessa, we help patients transform their smiles, and this is one of the many procedures that we specialize in. An implant can transform a person's smile …
---