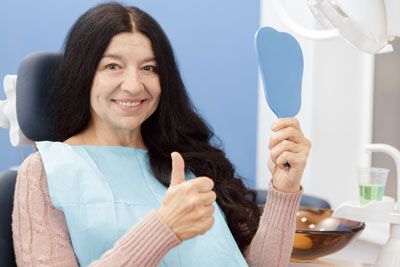 There are many reasons to schedule a tooth replacement immediately after losing one or several teeth. Primarily, tooth replacement is important for oral health but also for aesthetics.
#1. Teeth provide important stimulation to the jawbone
When a tooth falls out, that area of the jawbone no longer receives stimulation and the body thinks that the jaw is not serving its primary purpose. As such, the body will begin to leach calcium away from the jawbone for use in other areas of the body. This process of resorption in the jaw can make it less stable.
Also, with resorption, the shape of the jaw and face can change. This is why many people will begin to suffer from a sunken appearance on their face after experiencing massive tooth loss.
#2. Missing teeth can be aesthetically unattractive
Without a full set of teeth, a person is not going to look their best or make the most positive of impressions. Thus, it is important to replace the missing teeth quickly, especially when faced with an upcoming job interview or presentation.
Tooth replacement options
There are several ways that we can replace missing teeth. The replacement option we recommend is going to depend on the needs and health of our patients. To receive a customized recommendation, it is best to schedule an appointment for an exam. In the meantime, the three most common tooth replacement options are:
#1. Dentures
Dentures are still incredibly popular, especially among patients that are looking for a fast, convenient and nonsurgical solution. Dentures can replace one or all of a person's teeth. We can create dentures that fit securely, are comfortable and look natural. Some people choose to replace their teeth immediately with dentures and then, later on, replace them with a more secure option like a fixed dental bridge or implants.
#2. Dental bridges
A bridge is a fixed and secure way to replace missing teeth but only works for partial tooth loss. With this procedure, we secure the false teeth to a gum-like base that remains in position using adjacent natural teeth. We secure crowns around them so that the new teeth can remain in place and are durable when in use. These new teeth look natural and work well when someone only has partial tooth loss.
#3. Dental implants
Implants are the most secure solution for tooth loss since we surgically place them in the jawbone. In this procedure, we will insert a small titanium post into the jawbone and underneath the gums. Once it is securely in place, the body will begin to deposit bone tissue around the implant so that it essentially fuses to the jawbone like natural tooth roots.
Then, we will secure the replacement tooth to an abutment that we attach to the implant. This process can take several weeks or months to complete. However, once complete, a person will have a secure replacement tooth that looks and behaves exactly like a natural one. For this reason, it has become one of the more popular procedures.
Call us today
Learn more about your options if you have suffered tooth loss. We recommend calling our office and scheduling an appointment. We can conduct an examination and then determine what the best way to replace your missing teeth would be. Tooth replacement options can be customized to the patient's needs so feel free to discuss in detail what your goals are. The bottom line is, the sooner you make that appointment, the better it will be for your oral health. We encourage you to call today.
---
Related Posts
June 2, 2016
At Advanced Periodontics & Implant Dentistry, we provide patients with multiple tooth replacement options. Whether you have lost one or several teeth, we can replace them using our modern solutions and innovative methods. We are …
---