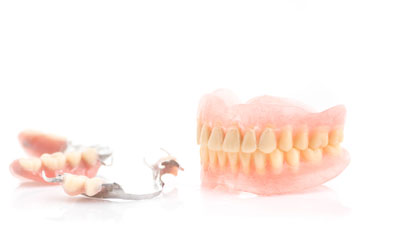 Dentures have been around for a very long time. Today, there is an option to get implant supported dentures which are some of the most stable and secure dentures a patient can acquire. Implant supported dentures are the next metamorphosis in the collaboration between dental implants and dentures. Natural dentures are removable and can fall out over time. Regular dentures also require the individual to remove them each night and soak them in cleaning fluid.
By using implant technology the dentures are more secure than traditional dentures, giving the patients a feeling of stability. In many cases, we will use implant-supported dentures for the lower jaw since regular dentures tend to be a lot less stable on the lower jaw.
More secure dentures
It may seem like a bit of an anomaly to suggest implant-supported dentures, yet more patients are finding benefits from implant-supported dentures. We use an implant supported denture when the patient does not have any teeth left in the mouth, but they do have enough bone left to be able to support the implant.
These dentures have a special set of attachments that then snap onto the implants. There are two types of implant-supported dentures, bar supported dentures and ball supported dentures. In either case, the dentures are typically made of an acrylic base so that they look like normal gums.
Bar-retained supported dentures
With bar retained supported dentures, a thin metal bar follows the curve of the jawline and attaches between two and five implants that we place onto the jaw bone. The patient then uses the clips or other types of attachments, which are fitted to the bar, to snap the denture into place. The denture itself fits over the bar and is securely held in place by these attachments.
Ball-retained dentures
Also known as stud-attachment dentures, ball retained supported dentures work by having the jaw bone hold a small metal attachment that fits into another attachment placed by the dentist. In the majority of cases, the attachments on the implants are ball shape, also known as male attachments. The male attachments fit into tiny sockets, female attachments, on the denture itself.
Initial consultation
In order to get implant supported dentures, it is important to go to an initial consultation. During the consultation, we can make a full evaluation of the needs of the patient, the patient's medical history, take X-rays and create impressions of the mouth for correct models. In some cases, a CT scan may also be necessary to the location of the sinuses. This way, we can avoid the nerves and other vital organs, when we place the dentures.
In addition, a CT scan also allows the dentist to see exactly how much jaw bone is available for the dental implant, and determine if there are other procedures necessary, like a jaw bone graft. Call today to schedule your consultation.
---
Related Posts
December 10, 2021
Partial dentures can be an affordable way to replace missing teeth. They can restore your smile, and they cost significantly less than alternatives like implants or dental bridges.Dentists typically recommend partial dentures …
---