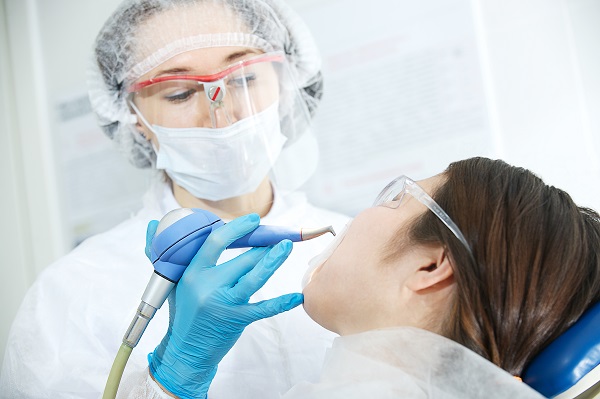 Are you thinking that you need to make an appointment with a periodontist because you are concerned about the health of your teeth and gums? A periodontist is a dentist who has decided to focus their attention on gums, which includes taking care of the gums, the teeth, the jawbone as well as the connective tissues in the mouth. This means that they will undergo another three to four years of additional training after becoming a dentist. Due to this additional training, they are the dental professional to go to when someone has been diagnosed with periodontal disease, a term that refers to an infection in the gums.
Regular dental cleanings
It is truly essential for everyone to make it to their regular dental cleaning appointments, as this allows a dental professional to thoroughly clean their teeth, which in turn supports their overall good oral health. Even when someone brushes and flosses exactly as they should there still is a chance that there will be some accumulation of plaque and tartar buildup on their teeth. This buildup needs to be removed in a timely manner or it will begin to jeopardize the health of the teeth. While a general rule of thumb is to get a dental cleaning once a year, some people only need to go in about every 18 months, while others may need to go in every six months or so for a regular dental cleaning.
When to visit a periodontist
It is time to visit a periodontist for a cleaning when any of the following signs of gum disease are present.
Red, swollen, sore or irritated gums

Gums should be a light pink color and fairly firm to the touch. If the gums are red, swollen or irritated, it is likely that they are also sore. These gum problems are all due to bacteria existing for a long time in the mouth and can be gingivitis or periodontitis, depending on how long the gum issue has been present.

Loose teeth

When the gums are not properly taken care of, it not only jeopardizes the health of the gums it also affects the health of the teeth.

Pain when chewing

When the gums start pulling away from the teeth, the teeth are no longer supported, making pain when chewing a common symptom amongst those who have gum disease.
Do you need to see a periodontist?
Are you in need of a periodontist for your dental cleaning? If it has been a while since you have had your teeth professionally cleaned then it is very possible that you may have gum disease. While you can make an appointment with a dentist for a regular cleaning, if it is determined that you have gum disease then you will need to also see a periodontist for a deep cleaning. Know that the longer you wait, the more difficult cleaning your teeth will be, making it a good idea to go ahead and schedule a deep cleaning appointment today.
Request an appointment here: https://www.westtexasperio.com or call Advanced Periodontics & Implant Dentistry at (432) 538-3318 for an appointment in our Odessa office.
Check out what others are saying about our dental services on Yelp: Periodontist in Odessa, TX.
---
Related Posts
August 26, 2021
Do you have gum disease? Read on to learn more about periodontal maintenance. If you have periodontal disease (gum disease), specific treatments may be necessary to help restore the health of your …